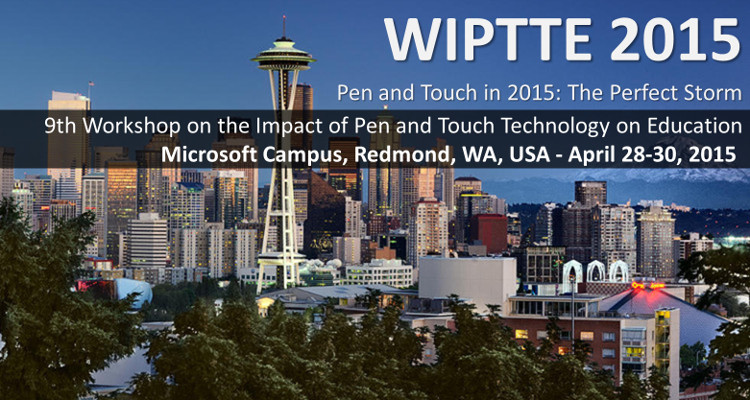 ---
JOIN US FOR WIPTTE 2016 AT BROWN UNIVERSITY!
Thanks to everyone for making WIPTTE 2015 a huge success on the campus of Microsoft at Redmond, Washington! Come join us again for WIPTTE 2016, which will be held on the beautiful campus of Brown University in Providence, Rhode Island.

WIPTTE 2016 Official Site
---
Updates
04/29/2015: The WIPTTE 2015 Evaluation Survey is now up!
04/11/2015: The travel section is now updated with useful information on local arrangements.
04/04/2015: The complete program schedule is now available.
---
Welcome
The 2015 Workshop on the Impact of Pen and Touch Technology in Education (WIPTTE) seeks papers that report on the impact of pen and touch interfaces across education settings, including both formal and informal learning environments. WIPTTE 2015 will take place on April 28-30, 2015 at the Microsoft campus in Redmond, Washington, USA. WIPTTE, an independent conference with multiple sponsors, has previously been hosted by universities. For 2015, the WIPTTE conference steering committee accepted a Microsoft invitation to host the conference, which will coincide with Microsoft digital ink and touch-related announcements that pertain to educational research and applications.
---
Overview
In the past few years, pen and touch enabled tablet computers have been changing the face of education. Since 2006, The Workshop on the Impact of Pen and Touch Technology in Education (WIPTTE) has been part of making this revolution happen by bringing together educators and students, researchers, developers, manufacturers and decision makers to look at and experience the current and coming state of the art around these technologies. WIPTTE is unique in bringing such a diverse group together to interact and share research, experiences tools, lessons learned and ideas for future directions.
Join us at the Microsoft campus in Redmond, WA for the ninth annual WIPTTE conference April 28-30, 2015.
---
Keynote Talks and Paper Presentations
The following honorary guests will be highlighting their research work in the keynote talks below:
Computer Interfaces Can Stimulate or Undermine Students' Ability to Think
Sharon Oviatt, Incaa Designs Nonprofit
The Pen is Mightier than the Keyboard
Pam Mueller, Princeton University
Microsoft Worldwide Education Talk
Anthony Salcito, Microsoft
Reflections on Classroom Presenter
Richard Anderson, University of Washington
Perceptive Pixel / Surface Hub Talk
Jeff Han, Microsoft
Paper presentations and keynote talks that encompass the workshop will be presented by researchers from different areas of industry and academia, including but not limited to:
Brown University
Central Florida University
Cornell University
Georgia Institute of Technology
Massachusett Institute of Technology
Microsoft Research
Northwestern University
Pepperdine University
Samsung
Seattle Pacific University
Texas A&M University
University of Washington
Wacom
---
Focus
Pen, touch, and tablets are changing the face of education. Be part of the revolution!
The Workshop on the Impact of Pen and Touch Technology in Education (WIPTTE) coenes users, researchers, developers, decision makers, students, and teachers to share and to drive exciting progress in the use of pen and touch technology in the future of education.
WIPTTE's first annual conference took place in 2006 at Purdue University. It has since been hosted in several other locations, including Virginia Tech, Pepperdine, Texas A&M University, and this year, at the Microsoft Campus in Redmond, WA. Each conference brings approximately 150 participants from industry, academia (including researchers, developers, and users), K-12 teachers, and junior/high school students together to share their tools, experiences, ideas, and innovative research.
Check Out Last Year's Content: 2014 WIPTTE at Texas A&M